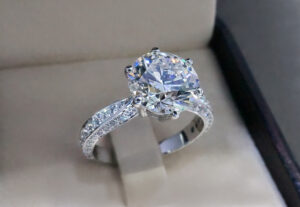 When it comes to engagement rings, diamond rings are people's favorite. Diamonds have been used in engagement rings for a long time. There is no doubt that diamond rings look gorgeous but with increasing demand, affording a diamond ring is getting difficult. Affordability is the main problem why people are looking for alternatives. Many alternatives are available in the market for diamonds. Moissanite is one of the diamond alternatives which is popularly used.
About Moissanite
Moissanite is obtained from nature, but natural sources of moissanite are rare. Moreover, moissanite that occurs in nature doesn't have enough size to be converted into a gemstone. It can be made in a lab and can be used for making moissanite gemstones. They are used in engagement rings and other jewelry.
Difference Between Diamonds And Moissanite Stones
When comparing these two, moissanite stones are very cheap than diamonds. Price is the best advantage of moissanite over diamond. For the same size and quality, a moissanite stone can cost about one-tenth of a diamond.
The color grade of diamonds ranges from D to Z. Grade D diamond is colorless and color increases as grade increases. Colorless diamonds are rare and very expensive. Moissanite stones usually have a greenish or yellowish tint. But, colorless moissanite stones are also available and are more affordable than colorless diamonds.
The durability of a diamond is a property that no other gemstone can match. Diamonds can withstand any wear and tear. So you can use a diamond ring daily without worrying about damaging the ring. Moissanite is also durable and doesn't scratch easily. The hardness of moissanite stone is less than diamonds, but they are comparable. Mohs hardness scale is used to measure the hardness of gemstones. The Mohs hardness score of a diamond is 10 and that of a moissanite stone is 9.5.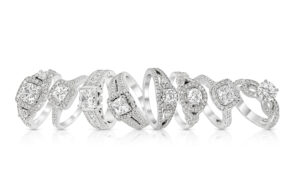 When comparing brilliance, moissanite stones are a step ahead of diamonds. The fire and brilliance of moissanite are exceptional and are more than a diamond. The dispersion value is the measure of fire of a gemstone. The dispersion value of moissanite is about twice the value of a diamond. A rainbow effect is seen from moissanite stones whereas diamond reflects white light.
Diamonds are quite expensive. So it is common for people to settle for low-quality small diamonds. Moissanite stones will be a perfect solution in this situation. You can get good quality moissanite stone for the price of a poor quality diamond.