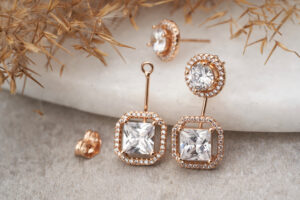 Moissanite and lab diamonds have gradually found their way into the gemstone market as consumers all around the world hunt for better ethical substitutes for natural diamonds. Alternatives are being sought by those who do not want to purchase conflict diamonds. Moissanite and lab-grown diamonds are currently the best options available, according to experienced jewelers.
Both of these natural diamond alternatives have distinct qualities, as well as a number of distinctions. Continue reading this article if you want to learn more about the differences between lab-grown diamonds and moissanite.
Moissanite
Due to its sparkling brilliance, endurance, and reduced cost, Moissanite, which is made from the mineral silicon carbide, is widely used as a mined diamond replacement in jewelry. Regardless of the fact that moissanite is not a real diamond, they offer its own set of benefits and are widely used as a diamond alternative.
Lab-Grown Diamonds
A lab-grown diamond is one that has been created in a laboratory setting, as the name implies. Diamonds are typically formed over billions of years deep within the earth's crust. Natural diamonds are formed at extremely high temperatures and under extreme pressure. These circumstances are replicated in a lab using advanced technology in order to generate man-made diamonds.
These days, people are becoming increasingly interested in lab-grown diamond engagement rings. The key reason for this is that they are conflict-free and have negligible environmental consequences. In addition, the main difference between a mined diamond and one created in a lab is its origin. In every other way, they resemble one another. You could not tell the difference between a lab-grown diamond and a mined diamond if you looked at them side by side.
Differences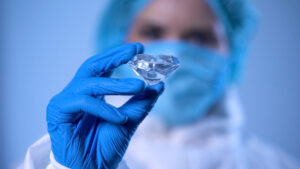 Diamonds created in a lab come in a variety of colors. As a result, they might be colorless, almost colorless, or purple, green, pink, or red in hue. In nature, Moissanite is only found in white, near-colorless, and yellowish-green colors.
Since lab-grown and natural diamonds are chemically and physically comparable, their hardness levels are the same. The hardness of diamonds is the highest among any known substances found on the earth. Moissanites, on the other hand, are not as durable as diamonds.
Moissanites have two refractive properties. Lab-grown diamonds, on the other hand, have only one refractive index. Because lab diamonds are stronger, more traditional, and in more demand, they are more expensive. Moissanite is the more cost-effective option when compared to lab-created diamonds.