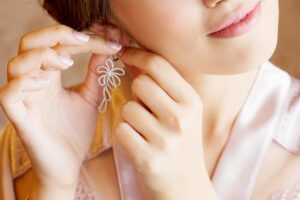 Lab-grown diamonds are becoming increasingly popular, especially among people because they are less expensive and free of conflict. The sales of lab-grown diamonds have increased rapidly over the past couple of years. Wearing a lab-grown diamond ring does not feel any different than a normal diamond ring. Just like natural diamonds, you may have to clean them regularly to keep their shine.
Here are some tips that will help you to clean your lab-grown diamond jewelry properly.
Use Soap And Waters
This time-honored method can easily keep your lab-grown earring or lab-grown diamond ring gleaming. It is recommended to combine a tablespoon of washing liquid with 4 cups of water in a large bowl. Immerse the lab-grown jewelry you want to clean in this mixture for about 20-40 minutes. Then gently rub and clean the jewelry with a soft cloth. You can also use your finger to clean the jewelry. Take it out from the bowl and dry it with a piece of fabric and place a soft fabric above the jewelry and allow it to dry in the air.
Use Hydrogen Peroxide And Windex Solution
Diamonds are usually cleaned with special cleaning materials. The jewelry does not get scratched when being cleaned with these products. Instead, use a high-quality cleaning material to gently touch and polish the lab-grown diamonds. Windex and hydrogen peroxide are two products that may be used to wash your lab-grown diamonds quickly and easily. With this process, we can remove every debris and dirt.
Use Chemical Free Solutions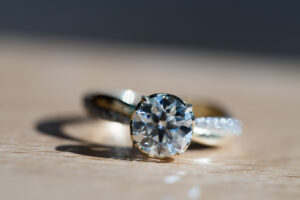 On the internet, you may get a variety of jewelry cleaning products. These cleaning supplies are usually included with your diamond purchase from most diamond specialists. Simply wash your lab-grown diamond jewelry with these chemical-free solutions to enhance its shine. Before you clean your diamonds with these solutions, you should read the directions that come with these cleaning products and follow the advice listed there. Use a soft cloth to clean instead of a hard cloth. The best diamond ring cleaner is one that is free of chemicals.
Use Baking Soda And Vinegar
White vinegar can also be used for cleaning lab-grown diamonds. Fill a glass dish halfway with excellent white vinegar and soak your jewels in it. Allow 15 minutes for your gems to soak the white vinegar. After that, remove it and wipe it with a soft fiber brush. Then, using a clean, sensitive rag, thoroughly wash and dry your jewelry. Baking soda can be used to clean diamonds in the same way.