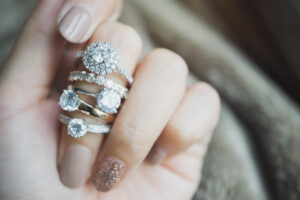 If you're looking for an ethically conscious and nature-friendly choice, consider exploring some nature-friendly bands for diamond rings. These bands offer a stunning combination of beauty, sustainability, and social responsibility. Let's delve into a few options that will captivate your imagination and leave you feeling good about your choice.
Recycled Metals: The Elegant Eco-Warriors
Choose a diamond ring band made from recycled metals, such as platinum or gold. These bands are crafted using reclaimed materials from various sources, including discarded jewelry and industrial byproducts. Recycled metal bands offer the same quality and elegance as their traditionally sourced counterparts, ensuring that your ring sparkles with a clear conscience.
Wooden Bands: A Touch Of Nature
For a truly unique and nature-inspired choice, consider a diamond ring with a wooden band. Wooden bands are often combined with ethically sourced diamonds, creating a stunning contrast that is both contemporary and eco-friendly. These rings celebrate the Earth's natural wonders while providing a timeless symbol of love and commitment.
Lab-Grown Diamonds: Beauty Born From Science
Lab-grown diamonds are a remarkable alternative to traditional mined diamonds. Not only are lab-grown diamonds physically and chemically identical to their mined counterparts, but they also have a significantly lower environmental impact. By opting for lab-grown diamond rings, you can enjoy the same exquisite beauty while minimizing the social and environmental issues associated with diamond mining.
Vintage And Antique Bands: History Reimagined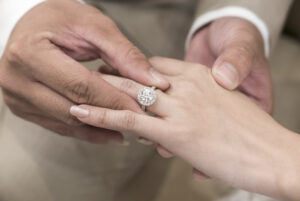 For those seeking a truly one-of-a-kind ring, vintage and antique bands are an excellent choice. By choosing a vintage or antique band, you not only acquire a remarkable piece of jewelry but also contribute to the preservation of heritage and reduce the demand for new production. Explore local antique shops or reputable jewelers specializing in vintage pieces to find the perfect ring with a story to tell. As you embark on your search for a nature-friendly band for your diamond ring, remember that sustainability is a journey. Look for jewelers and designers committed to ethical practices and transparency. Seek certifications like the Responsible Jewellery Council (RJC) or inquire about a jeweler's sourcing policies.
In conclusion, the demand for nature-friendly bands for diamond rings continues to rise as more people seek sustainable and socially responsible options. From recycled metals to wooden bands, lab-grown diamonds, and vintage treasures, there are various choices available to suit every taste and preference. Embrace the beauty of these nature-friendly bands and let your diamond ring shine with both elegance and a clear conscience.